Fantasy Football isn't fair. It doesn't care that you knew Kareem Hunt was going to be good, and landed Alvin Kamara on draft night too. It doesn't care that your running back stable included Devonta Freeman and Ezekiel Elliot also. Or that last year's MVP candidate, Antonio Brown, was on your team. You can throw the Eagles Defense, and Legatron (Greg Zuerlein) on there too!
You can be smart, you can use the "Draft QB1 in the later rounds" Strategy, you can be good, you can go undefeated for the first four weeks, you can outscore the rest of your league by 200 points… none of that matters.
It will straight up crap on your team.
All of that is true. In a perfect world, that team is cruising to the title while you're collecting everyone's money at the end. But that's the thing, that's normal for fantasy.
It's normal for up-and-downs to happen in a fantasy season. It's normal to feel invincible one week, and the next pull your hair out.
Did you know I spent all of last season wondering when Ezekiel Elliot would be suspended, and when it finally happened (Weeks 10-15) it submarined my season.
Did I get Zeke Insurance (McFadden)? Yes. Didn't matter.
Did storing Doug Martin away during his suspension help? Nope.
Neither did snagging Aaron Rodgers for his comeback (three TDs, 290 yds, three ints, 21.9 fps).
It didn't help either having Devonta Freeman during his worst season (865 yds, 7 TDs, 1 receiving) after averaging 1067 yds, 11 TDs, plus two more through the air.
By the end of the regular season I was muttering to myself, "Just kill me now!" while feeling like this…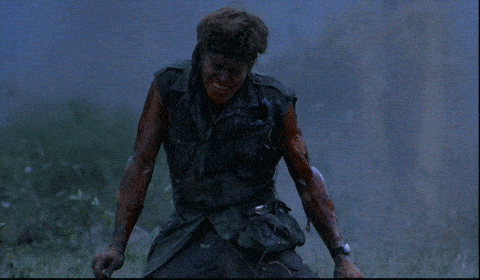 This might be the year that does me in finally.
Quick thought: In fantasy basketball, you need luck but you also have to be smart. The higher you go, the harder it gets – it becomes a chess match in the later rounds. In football though, you could be a blatant idiot and still luck your way to a championship. It's one of the reasons why I'm more proud of my fantasy basketball championships than my football ones. In true life, the reverse is true: football championships are harder to achieve than basketball ones.
Anyway, I'm done complaining about last year's mess. I'm here to help with my draft guide. Here's some pivotal questions…
What's your best realistic dream lineup for a 12 Team League?
1. One of the Top 4 running backs (Gurley/Bell/Zeke/DJ)
2. Hoping no one grabs Devonta Freeman
3. Reaching for Joe Mixon
4. Quickly snatching Deshaun Watson or one of the other 300+ pts QBs
5. Marvin Jones Jr.
6. Marquise Goodwin
7. Kyle Rudolph
8. Adding RB depth, Sony Michel
9. Jacksonville Defense
10. Greg Zuerlein
11. Adding more RB depth, Marlon Mack
12. D.J. Moore
13. Corey Clement
14. LeGarrette Blount
15. Because I think he has a chance to produce some solid outings this year, Baker Mayfield
Who's in your Que?
Definitely not Blake Bortles.
Anyway, here it is:
Devonta Freeman, Joe Mixon, Aaron Rodgers, Chris Hogan, Deshaun Watson, Marvin Jones Jr, Kyle Rudulph, Sony Michel, Alshon Jeffrey, Jacksonville, Philly, Julian Edelman, Marlin Mack, Greg Zuerlein, D.J. Moore, Adrian Peterson, LeGarrette Blount, and Corey Clement.
Rodgers then Brady then Wilson, or Rodgers then who?
Rodgers then Watson then Brady then Wilson. You could also make the case, Watson then Rodgers then Brady then Wilson with Wentz as the last of the 300 Point QB Club.
Why Watson then Rodgers though?
Remember when Cam Newton Superman-ed his way to a whopping 455 points in the 2015 Season, capturing the MVP, and bringing up old memories of the funny ass kid warming up his arm commercial?
His FPS/game that season, 28.5.
Watson's last year before being injured during practice… 28.6!!!!!!!!!!!!!!!!!!!!!!!!!!!!!!!!!!!!!!!!!!!!!!!!!!!!!!!!!!!!!!!!!
I'm not sure who's in charge of ESPN's projections, but 278.1 total points is mindless. Where the heck did they get that number???
He has the best receiver in the game, more experienced, and third easiest schedule to play with… he's definitely going over.
Sleeper Running Back?
1. Sony Michel
2. Marlon Mack
3. Corey Clement
Sleeper Wide Receiver?
This one's probably the hardest to nail of any of the fantasy related questions. How many people knew of JuJu Smith-Shuster before his breakout last year?
You can put your hands down USC fans!
What about Cooper Kupp?
If you were looking back, the only rookie receiver that stood out coming out since 2013 was Amari Cooper, but that was only because he was coming from Alabama. Everyone else including Michael Thomas, Stefon Diggs, Odell Beckham, Mike Evans, and Keenan Allen were fantasy afterthoughts.
This year's sleeper though, is different. Not only does he have speed, but he has the Yards-After-Catch moves unlike any of the other receivers. You could say he reminds you of Steve Smith…
Who should be the first running back taken in the second round?
You have to avoid risk in the early rounds, and given that I'm drafting Leonard Fournette. I'm not sure what "Rookie" Mahomes is bringing to the table, but if he can't pass the run (Hunt) is being loaded up on. I like Dalvin Cook, I don't like last year's injury. And Freeman no longer carries the potential Fournette does now.
Where's the drop off at tight end?
There's Gronk, then Kelce and Ertz or course, but I'd gamble and extend that to Jimmy Graham too. Ertz's numbers last year were 824 yds/8 TDs for 130.4 fps. Graham's: 520 yds/10 TDs for 112 fps, but that's behind Seattle's decrepit offensive line. Imagine what he could do with Aaron Rodgers and Green Bay's line. Can he get back to 2016's numbers: 923 yds/6 TDs for 128.3 fps? I think so.
One last tidbit, overlooking his injured 2015 and rookie seasons, he's averaged 159 fps. I wouldn't say he'll hit that mark again, but 130 fps shouldn't be a reach for him either.
When to draft Jacksonville's Defense?
Forget drafting this defense later than the eighth round, it's not happening. Think about this though, by round eight you should have all the skill positions filled including tight end right!?
But why can't you draft them in round seven especially when many of the players in that area have around the same fps, buuuuuuuuuuttttt you get more points out of Jacksonville's defense?
What do you mean?
So for instance, you're debating on picking Jacksonville's defense or Random X Receiver (say, Emmanuel Sanders 152.17 fps last year) in the seventh round, well why draft that receiver when they'll most likely just be used as a fill in when the match-ups are horrible for your two/three starting receivers?
152.16
You're only getting half of their points or seventy five percent at best – which amounts to 114.12 fpts.
Just take Jacksonville's Defense, at least you know you'll be getting somewhere around 152.16 fps and solid contributions week-in week-out.
Overall Player Power Rankings?
Tier 1
Todd Gurley
Le'Veon Bell
Alvin Kamara
Ezekiel Elliot
David Johnson
Antonio Brown
Tier 2
DeAndre Hopkins
Saquon Barkley
Odell Beckham Jr.
Melvin Gordon
Leonard Fournette
Kareem Hunt
Tier 3
Julio Jones
Dalvin Cook
Michael Thomas
Keenan Allen
A.J. Green
Devonta Freeman
Davante Adams
Christian McCaffrey
Joe Mixon
Jordan Howard
Rob Gronkowski
Tier 4
Mike Evans
T.Y. Hilton
Jerick McKinnon
Travis Kelce
LeSean McCoy
Doug Baldwin
Stefon Diggs
Alex Collins
Tyreek Hill
Adam Thielen
Kenyan Drake
Jay Ajayi
Amari Cooper
Derrick Henry
Zach Ertz
Tier 5
Larry Fitzgerald
Lamar Miller
Demaryius Thomas
Juju Smith-Schuster
Marvin Jones
Josh Gordon
Deshaun Watson
Aaron Rodgers
Royce Freeman
Allen Robinson
Brandin Cooks
Chris Hogan
Golden Tate
Mark Ingram
Jarvis Landry
Marshawn Lynch
Tier 6
Dion Lewis
Alshon Jeffrery
Tevin Coleman
Rex Burkhead
Greg Olsen
Russell Wilson
Tom Brady
Corey Davis
Cam Newton
Michael Crabtree
Sammy Watkins
Jimmy Graham
Kyle Rudolph
Carson Wentz
Carlos Hyde
Marquise Goodwin
Kirk Cousins
Kerryon Johnson
Emmanuel Sanders
Delanie Walker
Evan Engram
Sony Michel
Robby Anderson
Devin Funchess
Jamaal Williams
Robert Woods
Drew Brees
Jamison Crowder
Tier 7
Pierre Garcon
Chris Carson
Will Fuller
Trey Burton
Isaiah Crowell
Rashaad Penny
Randall Cobb
Chris Thompson
Nelson Agholor
Marlon Mack
Andrew Luck
Peyton Barber
Kenny Stills
Jordan Reed
Julian Edelman
Jordy Nelson
Ben Roethlisberger
Duke Johnson
Philip Rivers
Kelvin Benjamin
Tarik Cohen
Tier 8
Ronald Jones II
Sterling Shepard
Jack Doyle
Jimmy Garoppolo
David Njoku
C.J. Anderson
Matt Ryan
Devante Parker
Patrick Mahomes
Allen Hurns
Georger Kille
Jared Goff
Marcus Mariota
D.J. Moore
Kenny Golladay
Aaron Jones
Alex Smith
Bilal Powell
Rishard Matthews
Josh Doctson
Giovani Bernard
James White
Ty Montgomery
O.J. Howard
Dak Prescott
Tyler Lockett
Keelan Cole
Devontae Booker
Mike Williams (LAC)
Tyler Eifert
Nick Chubb
Adrian Peterson
Corey Clement
Tier 9
Jacksonville
Latavius Murray
Cameron Meredith
Chris Godwin
John Brown
Matt Breida
Michael Gallup
Cameron Brate
Tyrell Williams
DeSean Jackson
Erick Ebron
Anthony Miller
Derek Carr
Calvin Ridley
Dede Westbrook
Blake Bortles
Theo Riddick
Charles Clay
Minnesota
Mitch Trubisky
Mohamed Sanu
Eli Manning
Paul Richardson
Jared Cook
Philadelphia
LeBarrette Blount
Los Angeles
Jordan Wilkins
Andy Dalton
Ted Ginn
Doug Martin
Austin Seferain-Jenkins
John Ross
Case Keenum
Houston
Frank Gore
Ricky Seals-Jones
Dez Bryant
Denver
Ben Watson
Martavis Bryant
Baltimore
Austin Hooper
D'Onta Foreman
Donte Moncrief
Greg Zuerlein
Stephen Gostkowski
Mike Wallace
Geronimo Allison
Austin Ekeler
Jameis Winston
Nyheim Hines
Christian Kirk
Vance McDonald
Samaje Perine
Justin Tucker
Javorius Allen
Ryan Grant
Danny Amendola
Tyrod Taylor
Quincy Enunwa
New Orleans
---